About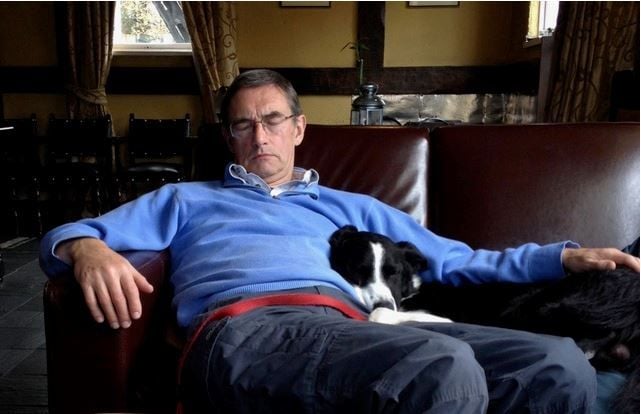 With Breac MacDui nam Beann in the public bar of the Bridge of Lochay Hotel at Killin.

(They serve dogs in there). Photo courtesy of Jane Grimley.
COMMODORE FREDERIC GLADWYN THOMPSON MBE MSc CEng RN DL. (known as 'Eric')

I was born and educated in Coatbridge. Six years before I arrived, my father's ship, HMS Intrepid, was sunk by German bombers at Leros in the Greek islands. (Leros was the fictional Navarone in Alistair Maclean's 'The Guns of Navarone'). That's probably why I wanted to join the Navy from earliest childhood - I wasn't going to let them get away with it. As I was too short-sighted to fly fast jets or drive ships, I joined as an Engineer and volunteered for submarines where eyesight was required only for watching dials and movies. Thus began a much extended education.
From school I went to Britannia Royal Naval College Dartmouth to win my Commission; then to the Royal Naval Engineering College Manadon (now demolished) for an Honours degree in Electrical Engineering, and later to the Royal Naval College Greenwich for a post grad diploma in Nuclear Reactor Technology. After my sea time in five submarines, I became a specialist in sonar, homing torpedo development and stealth technology, the very stuff of 'Hunt for Red October', for which I could have written the script. To help with that, I took a Masters degree in Acoustics at Heriot-Watt University in Edinburgh.
As a creature of the Cold War, I served in HM Ships Vigilant, Hermes, and Barrosa and HM Submarines Andrew, Otter, Osiris, Conqueror and Revenge in which I was awarded an MBE for leadership during an emergency on patrol. After numerous staff appointments in Submarine HQ, Squadrons, and in the Ministry of Defence, I finished my Naval career in senior management as Commodore in charge of HM Naval Base Clyde at Faslane, the home of the UK's strategic nuclear deterrent.
On retiring from the Navy, I stood as the Lib Dem candidate for Dumbarton in both Scottish and Westminster parliamentary elections, then a very safe Labour seat. I also became a freelance management consultant, a trustee of the Lomond and Argyll Primary Care NHS Trust, a member of Strathclyde Police Board and was elected as Councillor for Helensburgh East in Argyll & Bute Council in which I served for eight years. I also have the honour of having been appointed by Her Majesty the Queen as a Deputy Lord Lieutenant of Dunbartonshire from which I have just retired. I am a Freeman of the City of Glasgow and Past President of Glasgow's illustrious Bridgeton Burns Club which specialises in a school's competition in the East End of the City.
My long term interests, however, have been to write, which I now do full-time, and to perform live as an after dinner speaker. My autobiography, 'On Her Majesty's Nuclear Service', is both my personal homage to the Submarine Service and a statement of my gratitude for having lived my life in peace, thanks to the sacrifices of my parents' generation and the role of nuclear deterrence in my lifetime.
As a writer, I have won several literary prizes, in particular the Scottish Association of Writers Constable Trophy for best (unpublished) novel. Most recently On Her Majesty's Nuclear Service was runner-up in the Mountbatten Best Book Award 2018 out of 38 entries. I have always sought to bring humour to the party and have published three books of humorous verse (Colquhounsville-sur-Mer, Democracy for Birds and Love Songs for the Romantically Challenged) with another in the pipeline.
'On Her Majesty's Nuclear Service' has been an astonishing success in so many ways. Not only because of international recognition, excellent reviews in the media, a highly favourable interview on an American radio book review programme (see link in Blog) and three reprints in the first six months but also because it has elicited so many kindly contacts from former colleagues and complete strangers, all gratefully received and hugely life enriching.