THE HELENSBURGH BICENTENARY POEM
(Written for the Bicentenary of the granting of burgh status to Helensburgh. First performed at the Bicentenary celebration lunch in the Victoria Halls on 28th July 2002, 200 years to the day after the granting of the Royal Charter. The poem answers the unexplained question of why Sir James Colquhoun decided to build a new town in this obscure location in the first place)
Colquhoun stabbed the haggis wi' his bluntit skean dhu,
Then grabbed his Factor by the throat and begged him what to do.
'I'm cruising for a bruising, man! I'm heading for a rift.
'It's Lady Helen's birthday and I havnae bought a gift!'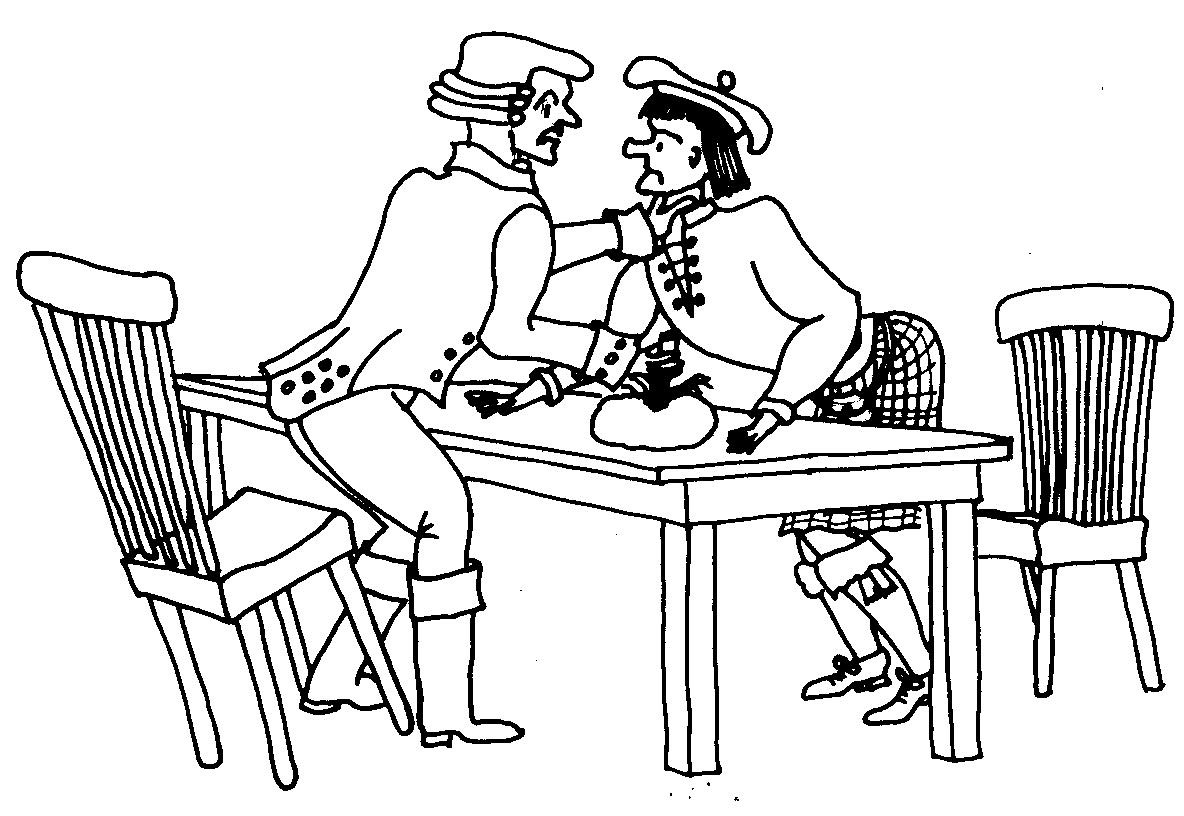 The Factor scratched his sporran: his brain was running hot.
'Why no gie'r a toun on a' that rubbish land you've got?'
'Man! Man! That's pure ded brilliant. You are a genius!
'Ah'll build it on Loch Lomondside and ca' the new place Luss.'
'Naw, naw,' the Factor cried. 'Ah meant ower by the Clyde.
'Malig's just the place tae build a new toun fur yur bride.'
'By the sea? Colquhounsville-sur-mer! She'll be ower the moon!'
'Naw, naw, Sir James!' the Factor groaned. 'You'll call it Helenstoun.'
Colquhoun grabbed the haggis and some Irn Bru to toast her
Then rushed to Lady Helen who slept deep in her four poster.
'I'm gie'in' you a toun,' he roared, then kissed her on the lips.
She fixed him with her bleary eyes then whispered, 'Where's the chips?'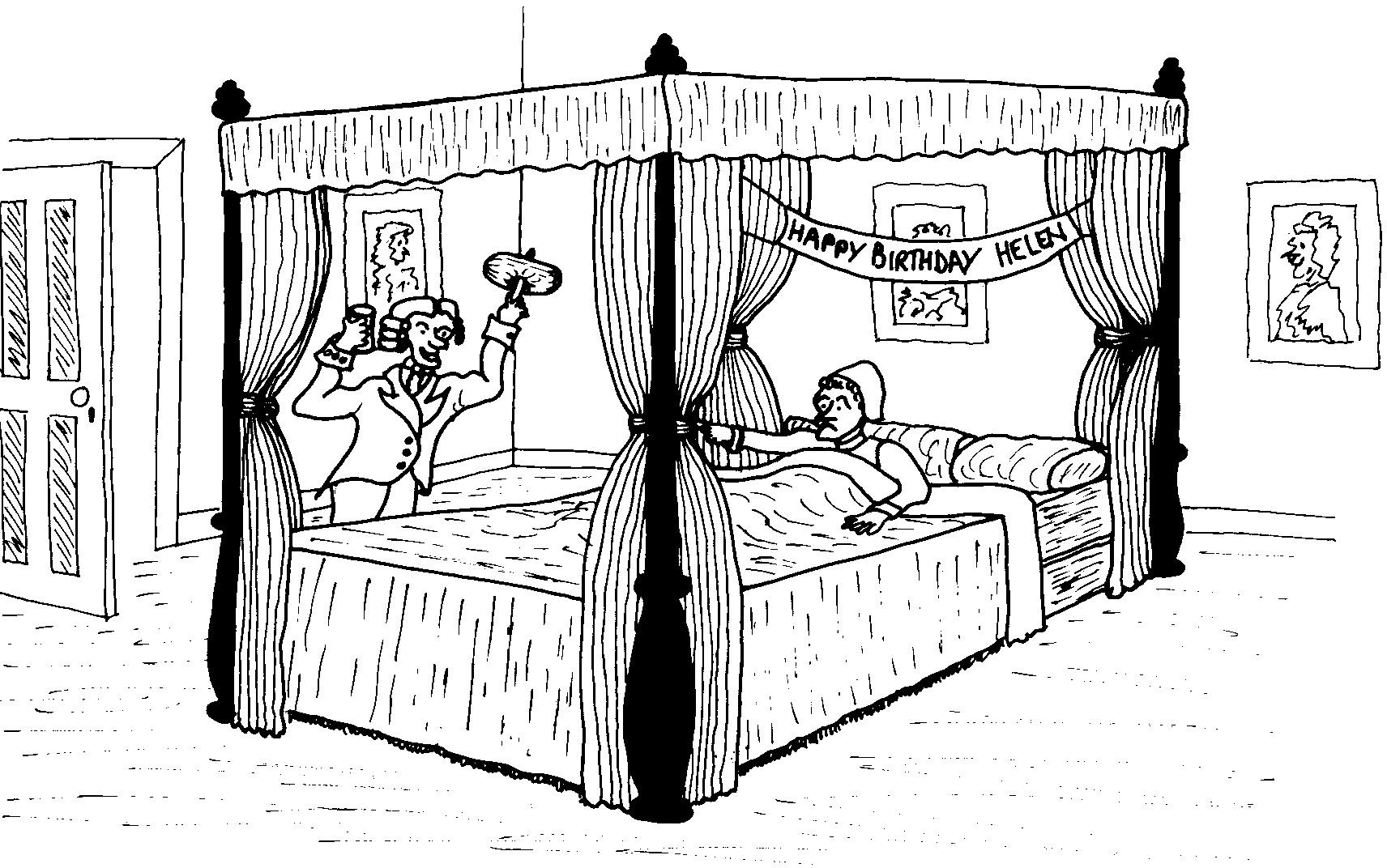 The planners planned a town to bring in industry and traders,
With ferries on the seafront and arcades for space invaders.
This was to be a working town with all the newest fangles
And just to keep it tidy, all the streets were at right angles.
But trade came slow. It failed to grow. So, twenty six years later,
The folks all racked their brains on how to make their wee place greater.
They sought a vision for the town with business plans more thorough,
And, just to up its status, sought the Charter for a Burgh.
The King gie'd the Charter Royal in Eighteen Hunnerd and Two
When Helen's town became a Burgh wi' Crest and Council too.
Wi' Provost, Town Clerk, Bailies twa, and Councillors by four,
It wisnae quite the jackpot but it opened up a door.
The Charter granted rights to hold four annual fairs and market
So folks would bring their cart to town - and then get charged to park it.
It granted rights to rid the town of dunghills and of prowling
And stick those owners in the stocks whose dugs had been caught fouling.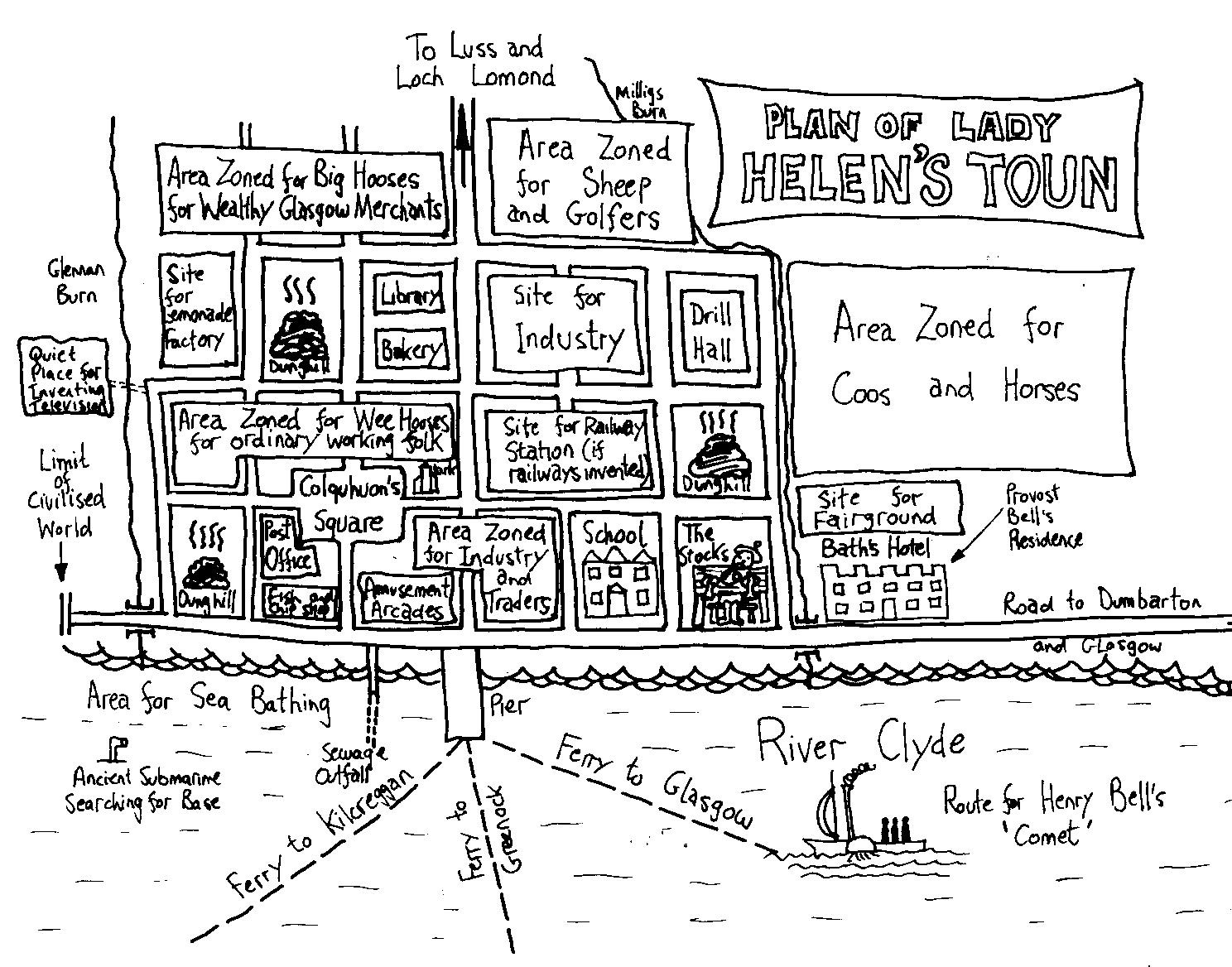 The Town Clerk called the folk to name, for popular election,
A Provost who would give the town a sense of new direction.
When one wag cried, 'Gie's King Billy', the Clerk glowered o'er his lorgnette.
'Ye cannae have King Billy, for Petrie's* no been born yet!'
'Twas Henry Bell of the Baths Hotel became the Provost first
And on finding all the coffers bare, he poked the Clerk and cursed.
'We'll no survive on Council Tax from farms and shops and bakers.
'If this Burgh is to thrive, we'll need the holidaymakers.'
So, Provost Bell applied his brain to business-led invention
Then put an engine in his boat, defying all convention.
Five hours and more from Glasgow town, a horsedrawn coach would clatter,
But Henry Bell had figured it was quicker 'doon the watter'.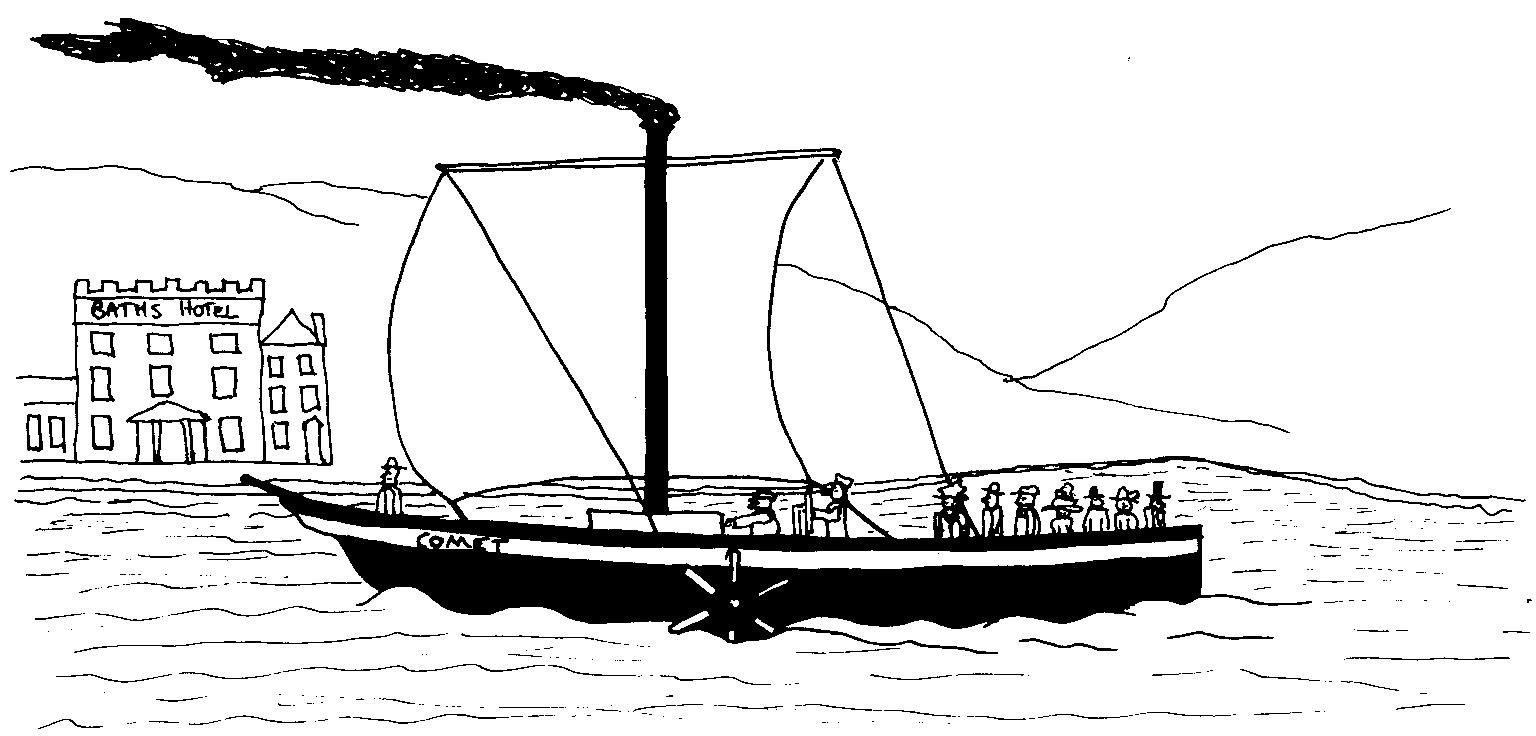 The tourist trade then prospered thanks to steamships on the Clyde
And wealthy Glasgow merchants came to Helensburgh tae bide.
But history shows this tourist boom was really rather brief
For by the new millenium, folks flew to Tenerife.
Now, in this bicentenary of Lady Helen's Burgh,
Our town is looking back but needs to plough another furrow.
No Provost, Bailies, Town Clerk now. The tourism is in wither.
It's time again for Helensburgh to get its act together.
(*Councillor Billy Petrie of Helensburgh was Convenor of Argyll & Bute Council at the time of the Bicentenary).