SPIRITUAL BONDS
The bond between shipmates in the Royal Navy is incredibly strong, second only to the family bond, but then many 'shipmates' have no real family; the Navy is their family. Some 70% of today's Naval entrants come from broken homes. What is more surprising is that this Naval bonding continues into succeeding generations.
A number of naval descendants have contacted me about their parent/grandparent who had served in ships/submarines mentioned in my book. The son of one of my submarine Captains actually contacted me to ask what his late father had done in the Navy! I was delighted to tell him that his father had been one of my great role models. Others join remembrance associations for lost ships and, seventy-five years after the end of the Second World War, are still meeting as 'family' to place wreaths above the wreck or to campaign for locating the wreck. When I discovered that my Captain's guest in HMS Revenge had been my father's Captain when HMS Intrepid was sunk, a re-union was hastily arranged; they had not met since the day Intrepid sank thirty-five years earlier but were still 'Intrepids' and had to meet.
When my mother passed away, ten years after Father, I phoned all the contacts in the family address book to let them know. One was Dougie Shorrock. I knew the name but not the person. He was one of Father's old wartime shipmates. When I phoned him, the response was electric. It was as if a voice had called him direct from heaven. He was so utterly moved to hear from his old shipmate's son that it prompted me to drive down to Lancashire to meet him. Every inch of that four hundred mile journey was worth the effort. He lived in Sabden, near Clitheroe, deep in the Pennines. When I arrived, there was a tattered old white ensign fluttering at his gate, not just any old ensign but a battle ensign from HMSSeychelles, the ship in which he had served with my father. It was a treasured memento. His pride was tangible.
Our meeting can only be described as uncanny. I'm told that I look and sound like my father but Dougie received me as the very re-incarnation of the Old Man. When I spoke, it was as if I was merely the earthly medium for my father's voice; as if he were speaking through me. Dougie, by then an old man overwhelmed with nostalgia, all but sanctified my father. Quite simply, I was Saint Eric's representative on Earth. For my part, it felt as if I had just been re-united with a long lost friend. I could even sense the feeling of having served with Dougie in Seychelles though that could only have been in my father's DNA.
Seychelles had been Dougie's first ship and my father's third. Father had been his sea-daddy, his seagoing mentor. Before the war, both had been bankers. Perhaps that had strengthened their bond. I visited Dougie again before he died. On that occasion, I took my sister Ray with me. Both encounters were deeply moving.
The mention in my book of my father's sinking in HMS Intrepid triggered the correspondence below.
THE SINKING OF HMS INTREPID 1943
HMS Intrepid, was sunk by German bombers at Port Lakki in Leros. A second wave of bombers can be seen in the photo below. The second victim was the Greek Navy's flagship, Queen Olga. It was September 1943 and I was in my mother's womb. Leros is the fictional Navarone in 'Guns of Navarone'.
With the help of the Greek Resistance, my father and most of Intrepid''s crew escaped via a neutral Turkish merchant ship which then rendezvous'd with a Free French destroyer in the Mediterranean. Thereafter, he had an overland trip from Beirut to Alexandria, thence back to Coatbridge by sea, a hazardous passage through the Mediterranean and Western Approaches, which were still under German threat. I had been born by the time my father returned home.
Intrepid had a busy war. She rescued troops trapped on the Dunkirk beaches; laid mines off the German coast; escorted shiploads of tanks up to Murmansk for the Red Army; searched for the mighty German battleship Bismarck; sank a U-boat; participated in the deadly supply convoys to starving Malta; covered the Allied landings in Italy; escorted the surrendered Italian fleet from Taranto to Malta before heading up to her grave in Leros.
CORRESPONDENCE WITH CRAIG ROBINSON WHOSE GRANDFATHER WAS SERVING IN HMS INTREPID WITH MY FATHER WHEN SHE WAS SUNK
(Grandson of Able Seaman Pat 'Spud' Murphy. Visual Signaller and gunner.)
Sir, I am researching my Grandfather's war and he, like your father, was on Intrepid when she was sunk off Leros. I'm fascinated by the photograph you have of the men on the lifeboats. Do you have any others? Craig Robinson
Dear Craig,
How amazing to have made contact with the grandson of one of my father's old shipmates. Leros was just a name I remembered from my childhood - I was still in my mother's womb when Intrepid went down. Like most of his generation, Dad did not talk about his wartime experiences but I came to understand that his ship had been sunk there. When my mother passed away, after Dad, I found some scraps of paper she had kept. One was a War Telegram from Dad from Alexandria informing her that he was 'fit and well'; that must have been pure gold dust for her at the time. There were also a couple of letters, heavily censored, referring to my impending arrival.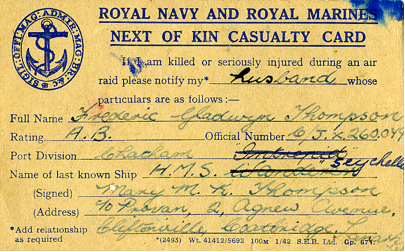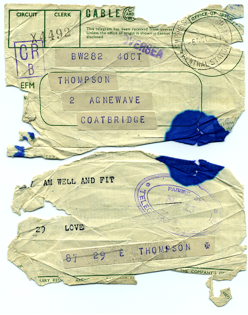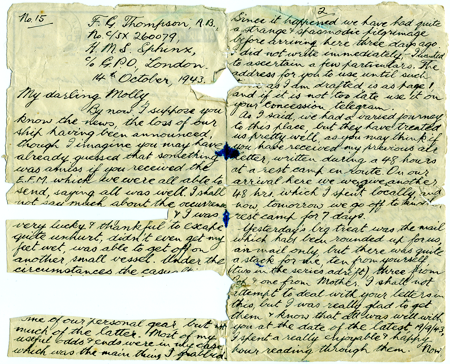 When I retired from my own career in the Navy, I decided to visit Leros where I found a British War Graves Commission cemetery, which contained six graves for Intrepid crew members. That was sobering. I also discovered the Greek War Museum in Leros where I saw the photographs of Intrepid sinking of which I took copies. So, no, I have no other photos. It was even more sobering to look at the photo of Intrepid in flames and realising that Dad would have been on board when it was taken, fighting for his life.
On holiday in Crete, I visited the British war graves cemetery at Chania and, by chance, the book of remembrance was open at the page for another of Intrepid's crew, a Chief Engine Room Artificer; he must have died of his wounds - the engine room took the hit.
Intrepid took 24 hours to capsize and lost only 7-8 men. The Greek destroyer Queen Olga, also at anchor in Lakki Bay, sank almost immediately with the loss of all hands, a national tragedy for the Greeks who hold a remembrance service there every year.
The Intrepid survivors were spirtied away by the Greek Resistance to the Turkish island of Castelorizo from where a Turkish mechant ship took them, hidden in its hold (Turkey was neutral in WW2), to a rendezvous with a Free French destroyer somewhere in the Med. That took them to Beirut whence they travelled overland to Alexandria. I don't know how they got back to UK, presumably by sea. That too would have been a hazardous journey. I mention the Intrepid incident in my book, 'On Her Majesty's Nuclear Service', which is due for publication next August (Casemate is the publisher).
I presume you will have googled Intrepid. If you have, you will know that she had an extremely busy war from Norway through Dunkirk to the laying of mines off the German coast to the sinking of the Bismark and onwards to the hell-hole of the Mediterranean. She then took the surrender of the Italian fleet which she escorted to Malta, and finally to her sinking at Leros. RIP. She was badly damaged at Dunkirk and was out of action for the best part of a year.
Delighted to have heard from another descendant of Intrepid.
Best wishes
Eric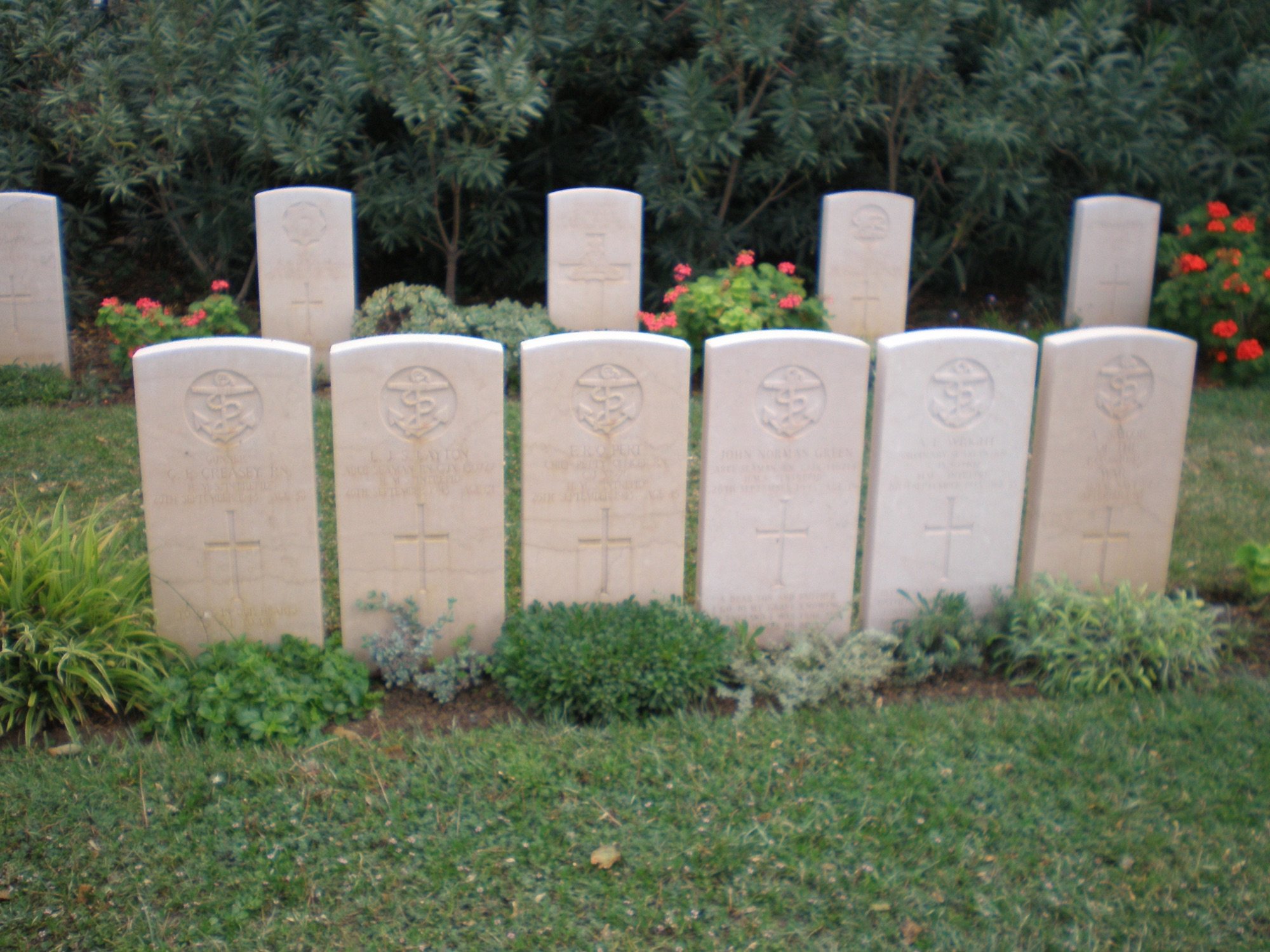 Gosh, Eric,
That has given me quite a lump in my throat. The huddled graves, a wretched metaphor for the conditions on Intrepid and the men's relationship. Perspectives are interesting too. Intrepid was a 'tough gig' by any measure, but my grandfather came from a pretty brutal family regime and appalling poverty in an East London slum. We know he was desperate to join up and get food and shoes. He recalled 'life on board' fondly. He talked so much about the food - he really was malnourished before joining up, so even rice and tinned beef was a slap up meal for him. He talked lots about eating eggs. Imagine that. Coming back from war and taking stories through your adult life about 'eggs'. He was quite used to sleeping on the floor and being cold to the bone too. It's no wonder he was singled out for the Arctic runs. Tough kid, his naivety was a good substitute for bravery, perhaps. How times have changed - thankfully. I live not far from where he trained at Ganges, another 'joining the dots' moment.
How did I find you? Well 'Once upon a time...' (I shall give you a very very potted history). A year ago I rediscovered my grandad's navy penknife. He gave it to me as a child and I used it right through Scouts. (So pleased I didn't lose it!) I found it in a drawer, cleaned some rust off the blade and discovered a date - 43.
"Mum, when did grandad join up?"
"42"
"This isn't his bloody knife. Typical, he's palmed me off with someone else's!"
"Well, maybe he got a new one during the war. I wonder what he was doing in 43 that meant he would have got new kit?"
And that's where the research started. Obviously he was reissued with his kit on HMS Medway in 43, after Intrepid sank. So I spent hours and hours getting his records and finding articles and information together (now trying to turn it into a book - I'm a writer, but work in advertising, so book-length copy terrifies me). Images were harder to come by. Searching for 'Intrepid' just brought up standard images, but I did find a couple of photos. So I just kept tweaking search terms - particularly when I realised the magnitude of the Olga loss. I found images under 'Olga' which had Intrepid in the background and then my last roll of the dice last week was searching 'Leros 43' and your website came up. I'm so very pleased it did.
If you ever find yourself in the east of England, please drop me a line before you travel. It would be an honour and 'spritual' moment to buy you a glass of beer somewhere. Thanks so much again for taking the time out of your schedule to write to me and particular thanks for the images. If I ever get to the point of having a manuscript I will be sure to send it your way.
I must at least pretend to do some work now, but I leave you with this exerpt. Thank you so much again.
'When I was feeling 'under pressure' at University in my 20s, he would take great pleasure in telling me that by my age, he'd left school, had two jobs and fought a war. If I ever complained about the cold as a small weedy boy, he would wait for a break in the horse racing, lift himself up in his chair and say something like, 'It's not cold. You should try chipping ice off the deck in the Arctic.' Then he'd take a bite of his prawn sandwich and sink back into the relative peace and comfort of the 1970s to check his betting slip. When I travelled to Thailand, thinking I was on a dashing bold adventure, he delighted in reminding me he had been all over Asia; mostly reducing it to rubble and craters, but he'd been there nonetheless.
'However, these insights were frustratingly few and far between and it didn't seem right to press for more. More did creep out the older he got. Maybe he sensed time running out, but my probing questions in my 20s and 30s got maybe two or three sentence answers rather than the quips of my childhood. But it was still precious little to go on.'
Perhaps that is what made me write this book. His silence was a kind of shorthand for the stunned silence the very prospect of war should always be met with. A shorthand I needed to rewrite in full.
Craig
Dear Craig
My father was an ASDIC operator. He was a part-time musician in peacetime - a banker by profession - and was drafted into ASDIC because of his sense of pitch. As he was an anti-submarine specialist, I followed in his footsteps but by my time, the best way to catch an enemy submarine was with a nuclear-powered hunter-killer submarine. Intrepid was father's second ship. He had previously been in HMS Wanderer, an old WW1 destroyer, on transatlantic convoy duty and was, I know, damned glad to be spared the Arctic convoys. His third ship was the American-built corvette, HMS Seychelles. By coincidence, the CO of the corvette being built along with Seychelles was Nicholas Monsarrat, author of the wartime classic, The Cruel Sea.
Another coincidence: the CO of Intrepid when she was sunk was a Commander Charles Arthur de Winton Kitcat. I remembered from childhood that one of my father's Captains had been called Kitcat but did not know in which ship. Thirty-five years later when I was Senior Engineer of the Polaris submarine, HMS Revenge, my Captain had a guest for dinner called Commander Kitcat. It turned out that he was one and the same and so my father was summoned to meet him. Kitcat had been badly wounded in the bombing at Leros and was unable to escape with his crew. Surprisingly, he did not know what had happened to his crew; so my father told him the story. In return, Kitcat explained the operation Intrepid had been engaged in; humble members of the crew were not privy to such secrets.
The coincidence continued. Kitcat was visiting Revenge because my Captain's father had been Kitcat's Engineer Officer. How about that? My father also trained at Ganges as most sailors did, and his cousin was a Wren Signaller there. He then subjected me to 'a la Ganges' training as a child. I was an absolute whizzkid at knots and splices!
I never fail to be impressed by what that generation achieved. I was more than happy to be involved in nuclear deterrence. A third world war is the last thing we need.
Yours aye
Eric
PS Did you know that Leros was the fictional Navarone in Alistair's Maclean's bestseller, the Guns of Navarone?
Dear Eric
This is wonderful. I'm writing the entire story of my Grandfather's war, week by week, from his being turned away due to his age and spending a year as a fire watcher, through Ganges and (with the help of his war records and stories) his hideous Arctic convoys and his double sinking on Intrepid and then Cam. (He told us there was a third, a ship he visited in harbour which was torpedoed as he stepped on). Suffice to say that he was quickly labelled a 'Jonah'.
Leros has fascinated me. He recalled the initial battle, shooting back (he was a gunner) and swimming in oily burning water. He was quite relaxed about the homeward journey, it sounds awful, but he was very young and probably had no idea where he was. He described the journey as 'boring'. This was typical of him though.
I shan't take up too much of your time, this contact alone has been very special. I hope to get to Leros one day. I'm sure when I've calmed down, I may have a question or two to ask you.
Yours for now
Craig Robinson
Dear Craig
We certainly are joining up the dots. I remember my mother telling me how Father had been able to bring real eggs home from Campbeltown. (He was doing anti-submarine training there). Eggs seem to have been a big deal during the war. I guess I'm a generation ahead of you; I can remember the tins of egg powder we used to have in lieu of the real thing. And again, Scouts; I too used to have my father's seaman's knife dangling proudly from my Scout belt - and I knew how to use its marlin spike for splicing. It never occurred to me that it would have been re-issued after the Intrepid sinking.
Did I tell you that I was given my father's name? I presume because Mother didn't know if Dad was alive when I was born, five weeks after Intrepid sank. Then he re-appeared large-as-life and I became F G Thomson Junior for the next forty-five years.
I'm not surprised to learn that you are a writer; I thought you may have been an English teacher or something like that; I commented on that to my partner. I am an electrical/nuclear engineer by profession but have been scribbling ever since I retired from the Navy and have just signed a publishing contract for On Her Majesty's Nuclear Service with Casemate (UK). It has certainly been a long haul and with much nugatory work, 'strangling your own children' as they call it. (The book should be on the streets by next August).
On the 'spiritual' theme, I attach two short, relevant extracts from my book (now edited out to reduce the word count); my agent wanted me to concentrate on my own time in submarines and excise the childhood memories. As I may attempt to include them in a second book about wartime childhood, I would be grateful if you don't further copy them.
I would very much like to include this 'spiritual' naval e-mail exchange in the Naval section of my website, with personal family history removed. It is a very human correspondence and I'm always looking for something warm-hearted to add. Would you be happy with that? Could I also post the photo with the signatures. Absolutely no offence taken if you'd rather not.
Thank you so much for your invitation to have a beer down Ganges way. I should also be very pleased to welcome you here if you ever venture this far North.
Yours Aye
Eric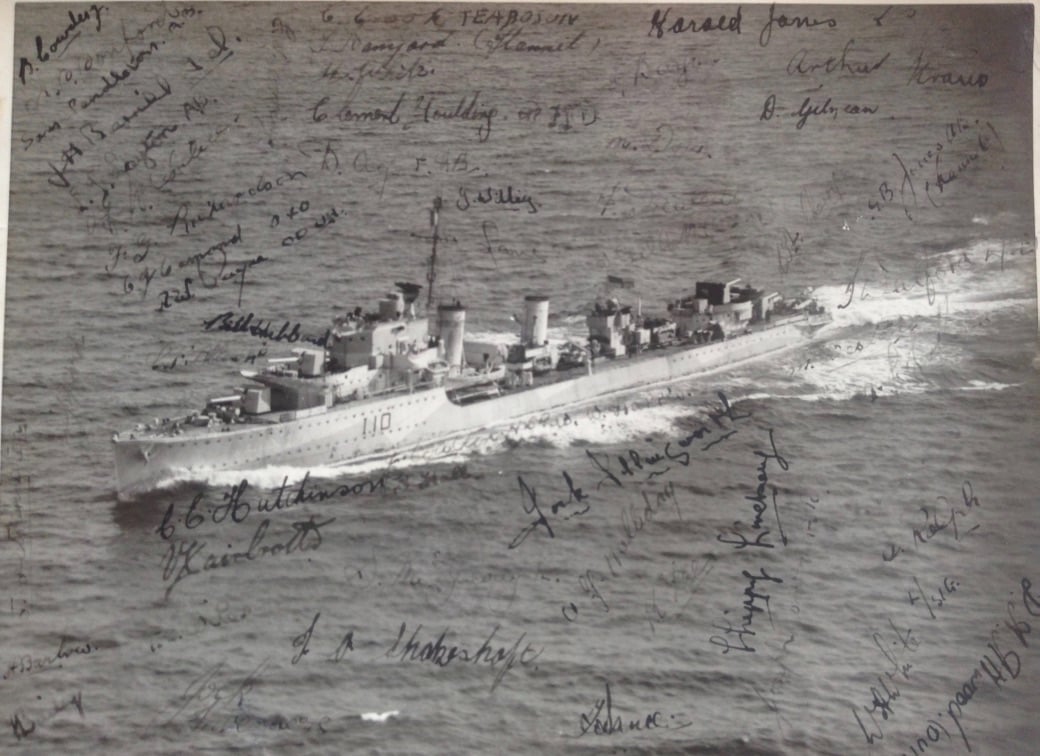 Dear Eric
I am seeing my mother tomorrow and I will photograph a few bits and send them on. You mentioned Kitkat telling your father the reason they arrived in Leros. Obviously the subsequent battle is well documented, but what were Intrepid and Olga doing there? We have no idea, and yet all his other records 'make sense'. I think they were converted for mine laying so was it to prepare the island for Hitler's imminent attack?
I'm aware I am taking up your time so I will perhaps ask you one or two questions after seeing my mother tomorrow and then I will leave you in peace.
Thanks you once again.
Craig
---
Evening Eric.
My mother was thrilled to read your emails. We went through all my grandfather's bits, most of which was personal stuff (Christmas messages home, his patchy service record, photographs etc) but I thought you'd like to see this. I honestly don't know when this was signed, the fact that it survived the war would suggest it was done after the ship sank. I know he had no kit after that.
We've transcribed all the names we can, but no Thompson that we can see. Maybe you will recognise his hand?
Thank you so much for taking the time to chat to me. It's a peculiar, but wonderful feeling to join some of the dots. I leave you with one last question which has bugged his whole family. At some point during the war he had a small Mickey Mouse tattooed on his leg. Under the sock line. He hated it and didn't want to talk about it.
I understand that sailors who progressed through a rank before serving the usual amount of time we're known as 'Mickey Mouse [rank]'. He was promoted from Ordinary to Able in very quick time as he learned semaphore and became a visual signaller (years of playing poker gave him a visual brain).
Could he have been 'persuaded' by his older, more experienced, but now lower ranking crew mates to have this done?
I did once wonder whether it was a 'rat' as he'd survived so many sinkings, but it had big round ears like Mickey. Anyway, with that conundrum I leave you with a photo of the ship.
Craig
Dear Craig
Very Many thanks. It has indeed been a most uplifting exchange. We must keep in touch.
The Scouts are a fantastic organisation and I owe them a huge vote of thanks for the background preparation it gave me for my career. I was a (land) Scout. I like to tell people that they are the junior wing of the SAS. As an adult, I was a Scoutleader for eight years, a Group Chairman, Port Commodore for the Deep Sea Scouts and was a Deep Sea Scout myself when I first joined the Navy. My younger son is currently a Scoutleader and my elder son was some years ago.
Promising to 'Do My Duty' as an eight-year-old cub engrained the concept of duty in my soul; the Navy then cemented it in. It took me about ten years in retirement to learn the trick of putting my own interests first.
And by the way, my late wife was a Guide Leader. Good old BP. I shall reciprocate by raising my rum glass to you at eight bells.
All the best, Good Hunting, Be Prepared and Look Wide.
Eric
Eric, this has been a wonderful exchange. I'd be more than happy for you to use our chats on your website in whatever way you see fit. And please do include the photo. Who knows who else may find it and what else this could spark? Don't hesitate to contact me should it prompt any questions.
I shall raise my mid-morning coffee to you and your family at 6 bells. (I was a Sea Scout, the bells are a distant memory, hope I got it right)
Yours Craig